LED light therapy facials and more in Los Angeles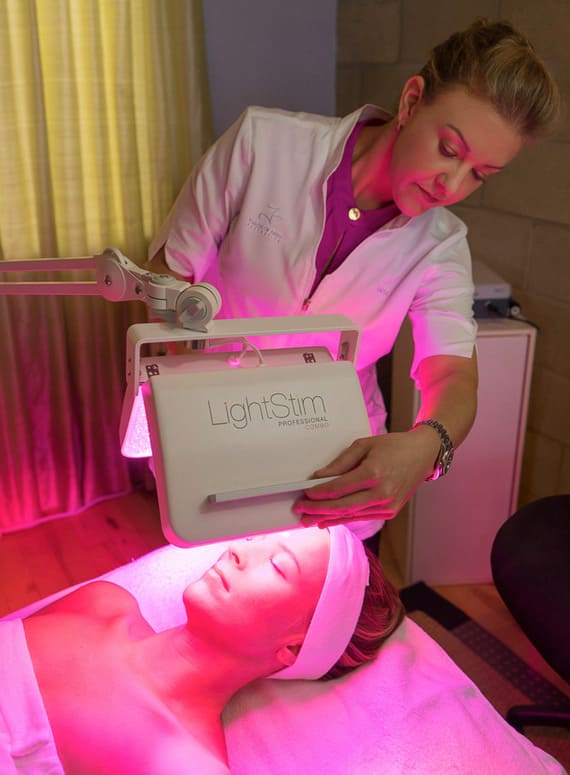 The private Hollywood 2,200 square foot loft of Touch of Faith Aesthetics sets the stage for some of the most sought-after facials in Los Angeles. We are a skincare oasis that takes pride in bringing transformative results to our clientele. We provide a variety of facials and skincare treatments. The LED light facial that we offer is one of the most sought-after facials in the world, and is even used by NASA.
Our LED facial uses five clinically proven wavelengths of UV-free LED lights. These LED lights are the ONLY FDA cleared and approved LED lights that boost collagen production, as well as treat existing acne. Overall, the benefits of this facial are one that should be experienced individually.
We understand that everyone and their skin are different, which is why our facials at Touch of Faith Aesthetics are completely unique and customized each and every time. Everyone's skin has different needs that are constantly changing and must be addressed accordingly. All treatments at Touch of Faith Aesthetics are customized to fit exactly what you need at the time of your treatment.
---
Sapphire 3 Dermabrasion with Led Light Therapy
The Sapphire 3 Dermabrasion with LED Light therapy is one of our most intensive treatments. This cutting-edge technology offers complete skin resurfacing using a sapphire encrusted tip that evens out skin tones, lightens hyper pigmentation, and smooths fine lines and wrinkles. The resurfacing is then followed up by a red monochromatic light that stimulates the production of collagen, while lightening dark spots on the skin. Lastly, the Blue LED creates a singlet of oxygen in between the layers of the skin which then inhibit acne-causing bacteria to form.
---
LightStim Professional LED Bed
The LightStim LED Bed is a natural and non-invasive treatment that promotes overall body wellness using LightStim MultiWave Patented Technology. This LED bed is composed of 18,240 LEDs designed to rejuvenate, repair, and reenergize every cell in the body. It emits five specific wavelengths/colors of light that work together to benefit the body in a variety of ways. The UV-free light rays reenergize the body's cells, stimulate the body's natural process in building new proteins, and promotes overall body wellness by regenerating new cells.
This method of necessary healing increases blood circulation, reduces inflammation, relieves pain, and encourages body wellness. It is the first and ONLY LED bed to gain over-the-counter FDA clearance and approval to relieve muscle, joint, and arthritic pain while increasing local blood cell circulation. Studies show that LED light therapy can help with cellulite by contributing to shrinkage of fat cells, stimulating collagen/connective tissue formation and increasing blood circulation.
The LightStim LED bed promotes more than body wellness, since it does improve the overall health of the skin as well. It is the first FDA approved LED bed to gain clearance for a number of body wellness benefits, such as promoting the release of Nitric Oxide, which in turn, can also help with the regeneration of skin. It helps accelerate wound healing, reduce bruising, alleviate and reduce redness, as well as reduce swelling. This form of light therapy protects against cardiovascular disease, heart attacks, and strokes.
Studies have shown that LED Light Therapy can help:
Increase the cells production of the body's fuel source, ATP (Adenosine Triphosphate)
Reduces redness, swelling and bruising and accelerates wound healing
Stimulate the shrinkage of fat cells, stimulate the production of collagen and increase circulation, in turn reducing the appearance of cellulite
Helps to release Nitric Oxide, which studies show:

Prevents damage to cells caused by free radicals
Protects skin from UV damage
Improves post-exercise recovery and promotes muscle regeneration
Releases endorphins to inhibit pain
Reduces high blood pressure
Decreases exercise induced muscle fatigue
Share your moments with us on Instagram